Advisors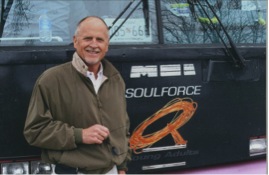 Mel White is a clergyman, author, filmmaker, professor and LGBT activist.  He is the author of 21 books (nine bestsellers); he has produced, written and directed 53 documentary films and television specials; he is a consultant to major film studios including Warner Bros.; and he is the founder of Soulforce, a gay advocacy group. While working on his Ph.D. in communications and film at USC he received a Rockefeller Scholarship to study theology at Fuller Theological Seminary where he earned his doctorate.
Earlier, while completing his B.A. at Warner Pacific College and his M.A. at the University of Portland, Mel produced and hosted a weekly NBC television series, "The World of Youth" (1959 – 1966).  In 1962 he married Lyla and they had two beautiful children.  During his marriage Mel admitted to being attracted to men.  He embarked on a long process of attempted cures for his homosexuality, none of which worked.   He and his wife finally agreed to an amicable divorce.
In 1984 Mel began dating Gary Nixon and they were married in 2008.  He wrote of his struggle in coming to terms with his sexuality in his autobiography, Stranger at the Gate:  To Be Gay and Christian In America.  Recently Mel has released an important expose of the Christian Right, Holy Terror: Lies the Christian Right Tells Us to Deny Gay Equality.
Mel has dedicated his life full-time to ministry of change for lesbian, gays, bisexuals and transgender people from all over the world, working on their behalf in the media, in the political process and with fellow religious leaders.  He and Gary now live in Long Beach, California.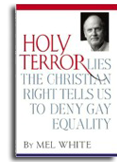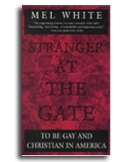 ---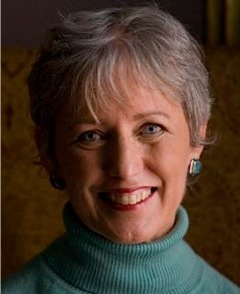 Ann Thompson Cook is Co-Director with Rev. Cedric A. Harmon of Many Voices, a new organization that is creating a movement of gay and transgender justice from within the Black church. A nationally recognized author and advocate for LGBT equality for more than 25 years, Ann has facilitated dialogues and produced educational books that are distributed by several organizations worldwide. Previously, she served as President/CEO of the Religious Coalition for Reproductive Choice, where she initiated, with Rev. Carlton Veazey, the National Black Religious Summit on Sexuality.
---